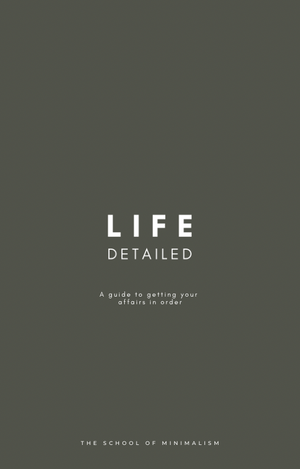 LIFE detailed - taking care of what matters
*LAUNCHING SOON*
Introducing LIFE Detailed: A Guide to Getting Your Affairs in Order
Are you feeling overwhelmed by the thought of organising your life's important documents and information? Do you worry about leaving your loved ones with a burden of untangling your affairs?
LIFE Detailed is a comprehensive guide designed to assist you in organising and managing all aspects of your personal and financial affairs. It's your go-to resource for creating a clear and structured system that will help you stay organised, ensure that your wishes are known, and make life easier for your loved ones when they need it most.
What Does LIFE Detailed Include?
Step-by-Step Guidance: Our guide takes you through a carefully crafted, easy-to-follow process. It breaks down the overwhelming task of organising your affairs into manageable steps, ensuring you cover everything essential.

Personal and Financial Worksheets: LIFE Detailed provides a collection of customisable worksheets, forms, and checklists. These tools enable you to record and store critical information such as bank accounts, insurance policies, investments, passwords, wills, healthcare directives, and more.

Estate Planning Essentials: We guide you through the fundamentals of estate planning, helping you understand the importance of wills, trusts, and powers of attorney. You'll gain insights into the legal and financial aspects of estate planning and learn how to protect your assets and ensure your wishes are carried out.

Legacy and Digital Assets: We provide guidance on managing your online presence, passwords, social media accounts, and digital assets. You'll discover how to leave a lasting digital legacy that aligns with your values and intentions.

Family Communication: Communication is key. The guide includes tips and strategies for effectively discussing your plans and wishes with your loved ones. We offer guidance on initiating important conversations, addressing sensitive topics, and fostering open dialogue to ensure clarity and understanding among family members.

Emergency Preparedness: We understand the importance of being prepared for unforeseen circumstances. LIFE Detailed equips you with practical resources for emergency preparedness, including emergency contact lists, medical information, and contingency plans. You'll feel confident knowing you're ready to handle unexpected situations.
__________________________________________________________________________________________
This is a digital product and all sales are final.
By downloading this guide you agree to only make use of it yourself and you will not share, sell or make use of the guide for commercial purposes.